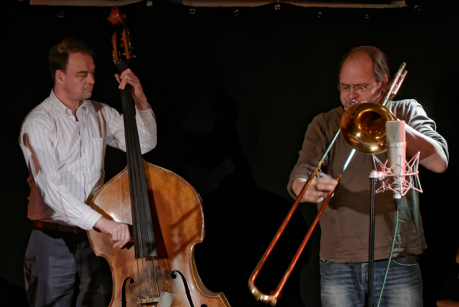 the Band:
It was to be felt the first time we met, though it took a some years after we met and did some jams, until Christof asked Michael Griener and me to join his trio. Soon after we recorded our first album 'Squakk', followed by years of collaboration in Projects like Ulrich Gumpert Workshopband, Squakk as a trio and later with Rudi Mahall as a quartet and many more...
As a consequence of that it seemed to be almost natural to play as a duo. We recorded a CD that consists of the music that we played in the recording session without editing or leaving out anything, and in the order we improvised the tunes, that soon will be published on 'gligg-records'. There will be a tour as a duo or more and a wonderful future for the music..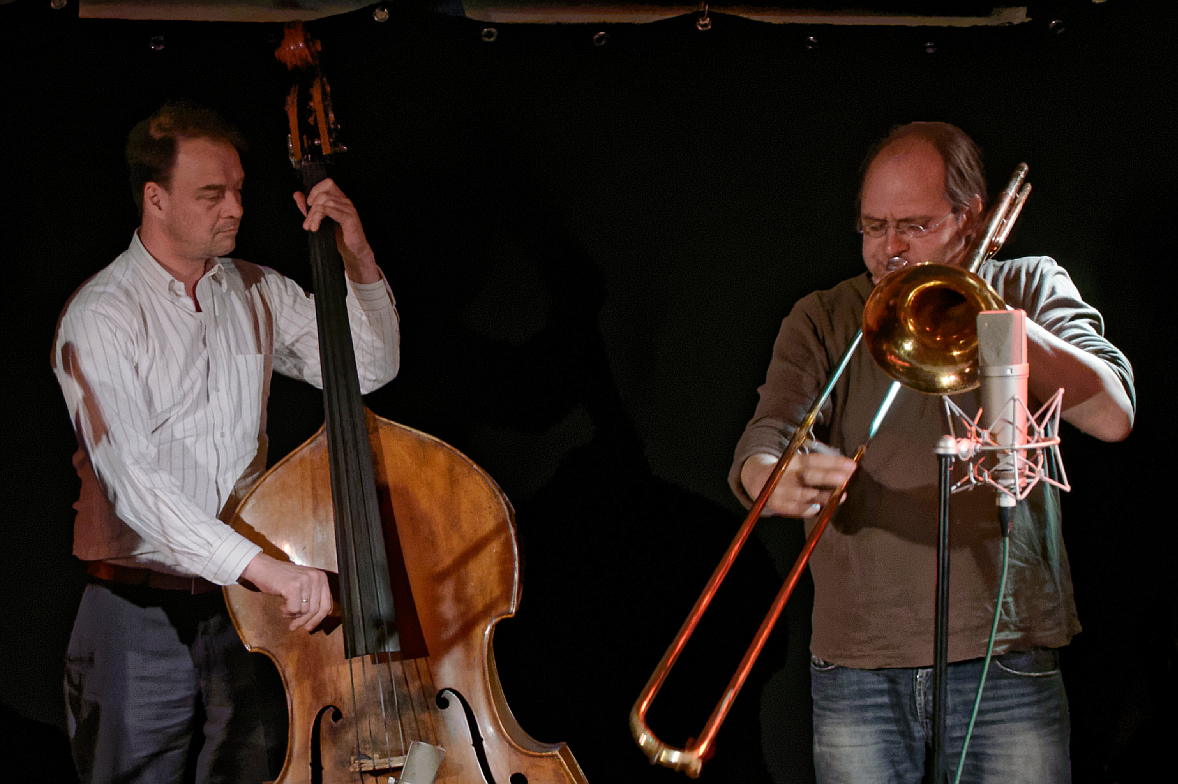 die Band
Es hat sotort gefunkt, doch dauerte es, nachdem wir uns kennengelernt und des öfteren gejammt hatten, einige Jahre, bis Christof Michael Griener und mich in sein Trio einlud, mit dem wir dann 2008 unsere erste gemeinsame CD "Squakk" aufnahmen. Es folgte daraus eine langjährige Zusammenarbeit in verschiedenen Projekten wie Ulrich Gumpert Workshopband, Squakk als Trio und als Quartett (mit Rudi Mahall)u.v.a...
Als Konsequenz ergab sich in quasi natürlicher Weise die Idee des Duos "Ein Roder Thewes" und eine CD, die aus der gesamten Aufnahmesession mit den Improvisationen in der eingespielten Reihenfolge besteht, die demnächst auf dem Label "Gligg" veröffentlicht wird, eine Tour im Duo und eine großartige Zukunft für die Musik...


the Musicians: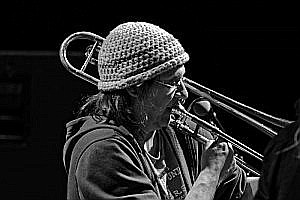 CHRISTOF THEWES works as a trombone player, composer, arranger and musical instruments teacher. He leads different ensembles from solo to big band, that cover contemporary jazz, free improvisation, contemporary music, and also experimental rock funk and soul music.
He worked with Rudi Mahall, Wollie Kaiser, Jürgen Wuchner, Gabriele Hasler, Claudio Puntin, Roger Hanschel, Albert Mangelsdorff, Han Bennink, Adam Pyronzcyk, Dieter Manderscheid, Gunter Hampel and many more on stages all over Europe. Since 2008 he is a member of the lengendary 'Globe Unity Orchester' and the 'Ulrich Gumpert Workshop Band' In 2017 he joined the band 'Die Enttäuschung'
He was awarded with some awards like in 2007 the'Jazzpreis der Stadt Worms.
Christof Thewes
arbeitet als Posaunist, Komponist+Arrangeur . ER leitet verschiedene Ensembles und Musikprojekte von Solo bis Big Band, die sich zwischen modernem Jazz, freier Improvisation und Neuer Musik bis hin zu experimenteller Rock, Funk und Popmusik bewegen. Gegenwärtig realisiert er diese Musik als Komponist und Leiter in den Musikgruppen '' Christof Thewes Quartet'', ''Undertone Project'' , der Big Band'' Little Big Band'', in den Neue Musik ''Ensembles Modern Chamber Trio (Ensemble )'', in derExperimental-Popgruppe '' Phase 4''+ in dem Soloprojekt '' Trombonealone''. Ausserdem arbeitet er im Bereich Literatur, Theater und Musik mit dem Schriftsteller, Filmemacher und Sprecher Alfred Gulden in der preisgekrönten Formation ''Gulden–Thewes ''zusammen.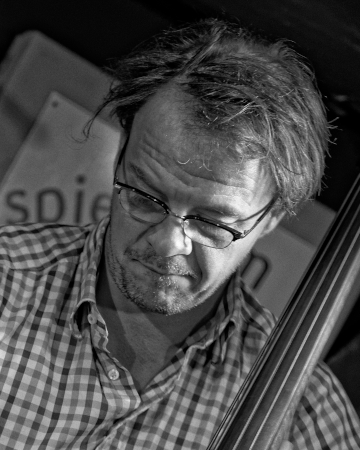 Jan Roder, born 1968 in Lübeck, Germany, playes bass and electric bass. He moved to Berlin in 1995 where he encountered musicians the likes of Dörner, Mahall, and v. Schlippenbach with whom he has played until today (f.e. this very 'Enttäuschung'). Roder considers his musical 'home' to be post-free jazz and improvised music deeply rooted in the jazz tradition.  He collaborates with musicians such as Aki Takase, Gunter Hampel, Irene Schweizer,Ulrich Gumpert, Ernst Ludwig Petrowski, Thomas Borgmann, Peter Brötzmann, WolfgangPuschnig, Axel Dörner, Wlli Kellers, Michael Griener, Oliver Steidle, Silke Eberhard,Christof Thewes, Matthias Schubert, Olaf Rupp.....  and in projects such as Monks Casino, Die Enttäuschung, Soko Steidle, Squakk, Die Dicken Finger (on electric bass), Silke Eberhard Trio, Ulrich Gumpert Quartett and Workshop Band, JR3, as a soloist and studio musician.


Jan Roderlebt nach diversen Zwischenstationen, seit 1995 in Berlin und widmet dort als einer der Protagonisten seine Zeit dem zeitgenössischen (freien) Jazz und improvisierter Musik.
Er spielt mit Alexander v. Schlippenbach, Aki Takase, Rudi Mahall, Gunter Hampel, Irene Schweizer, Ulrich Gumpert, Ernst Ludwig Petrowski, Thomas Borgmann, Peter Brötzmann, Wolfgang Puschnig, Axel Dörner, Wlli Kellers, Michael Griener, Oliver Steidle, Silke Eberhard, Tristan Honsinger, Christof Thewes, Matthias Schubert, Olaf Rupp u.v.a. Konzerttourneen und Festivals in aller Welt.
CD Produktionen, u.a. "Jan Roder – Doublebass", "Die Enttäuschung – Vier Halbe", "Monk's Casino", "Die Dicken Finger – Argyromanie", "Soko Steidle – Played Ellington", " Tama-Goldfish", "JR3 - Happy Jazz", "Silke Eberhard Trio - The Being Inn".
Roder ist beteiligt an Projekten wie Monks Casino, Die Enttäuschung, Soko Steidle, Squakk, Die Dicken Finger (am E-bass), Silke Eberhard Trio, Ulrich Gumpert Quartett / Workshopband, JR3 (mit Rudi Mahall und Olaf Rupp) u.v.a., tritt als Solist auf und arbeitet von Zeit zu Zeit als Studiomusiker. Foto: Alexander Schaffer





the CD:
CD from January 2018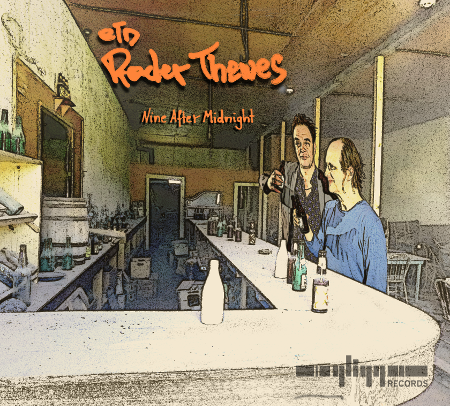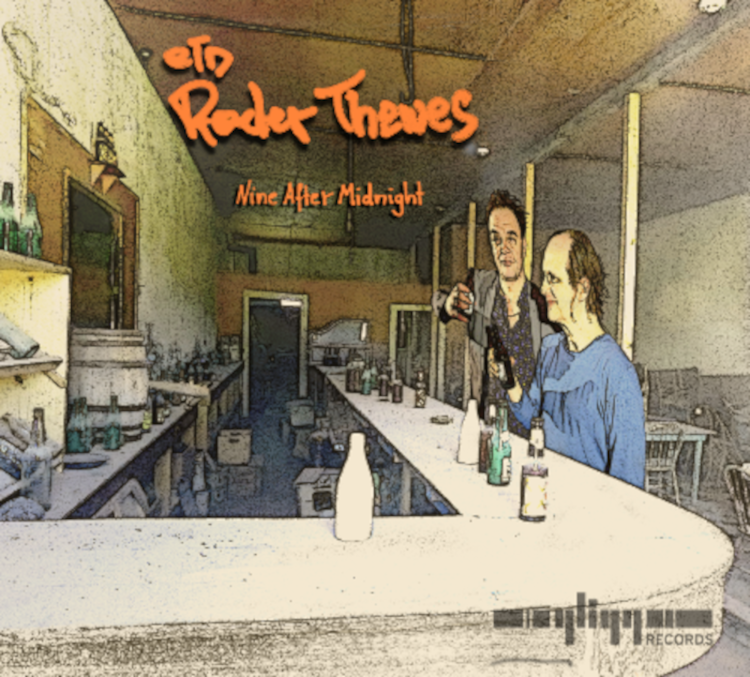 the music:
from CD "Nine After Midnight