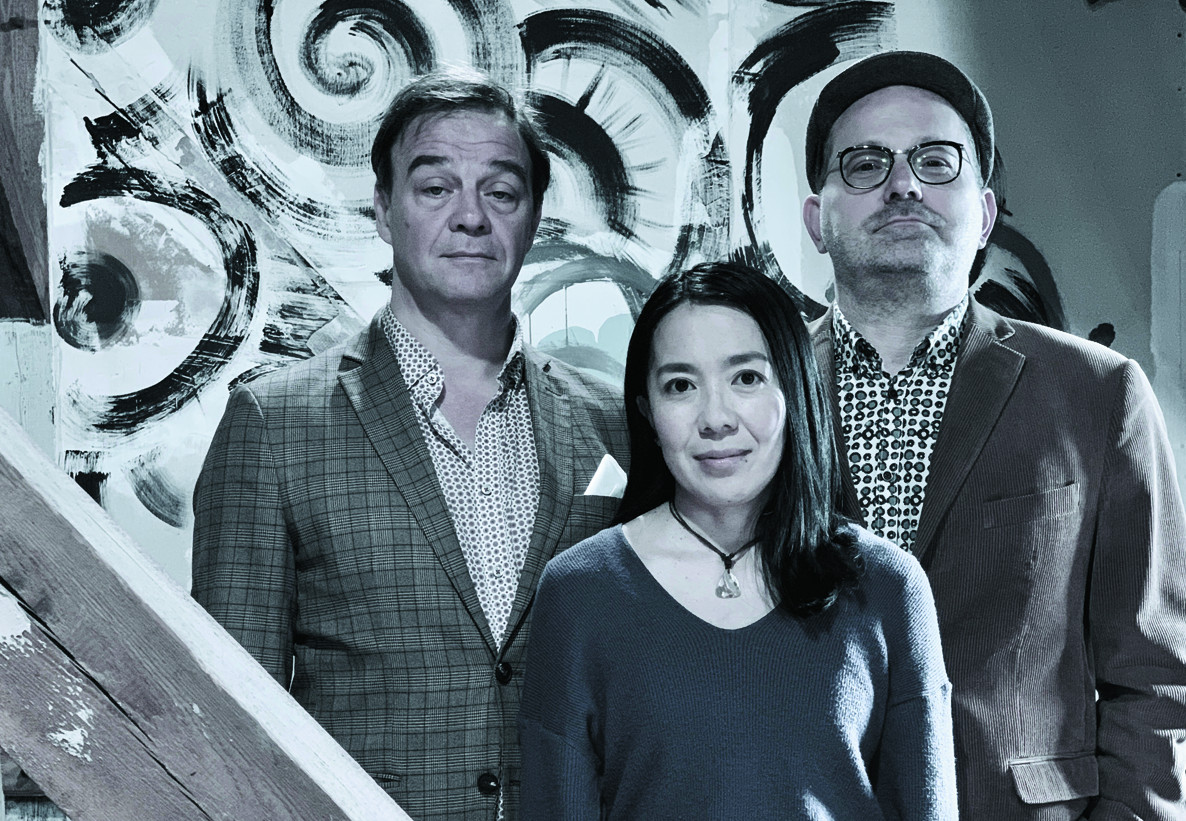 the Band:
WALD is a freely improvising trio consisting of Taiko Saito on vibraphone, Jan Roder on double bass and Michael Griener on drums.
As part of a concert series in which Michael Griener and Jan Roder presented themselves both with existing bands and with first encounters in Berlin's Au Topsi Pohl, Taiko Saito appeared on a public stage for the first time in November 2021 with just bass and drums.
The music they created together allowed all three to express facets of their musical personalities that had rarely been revealed before.
The concert is documented on a CD on Trouble In The East Records.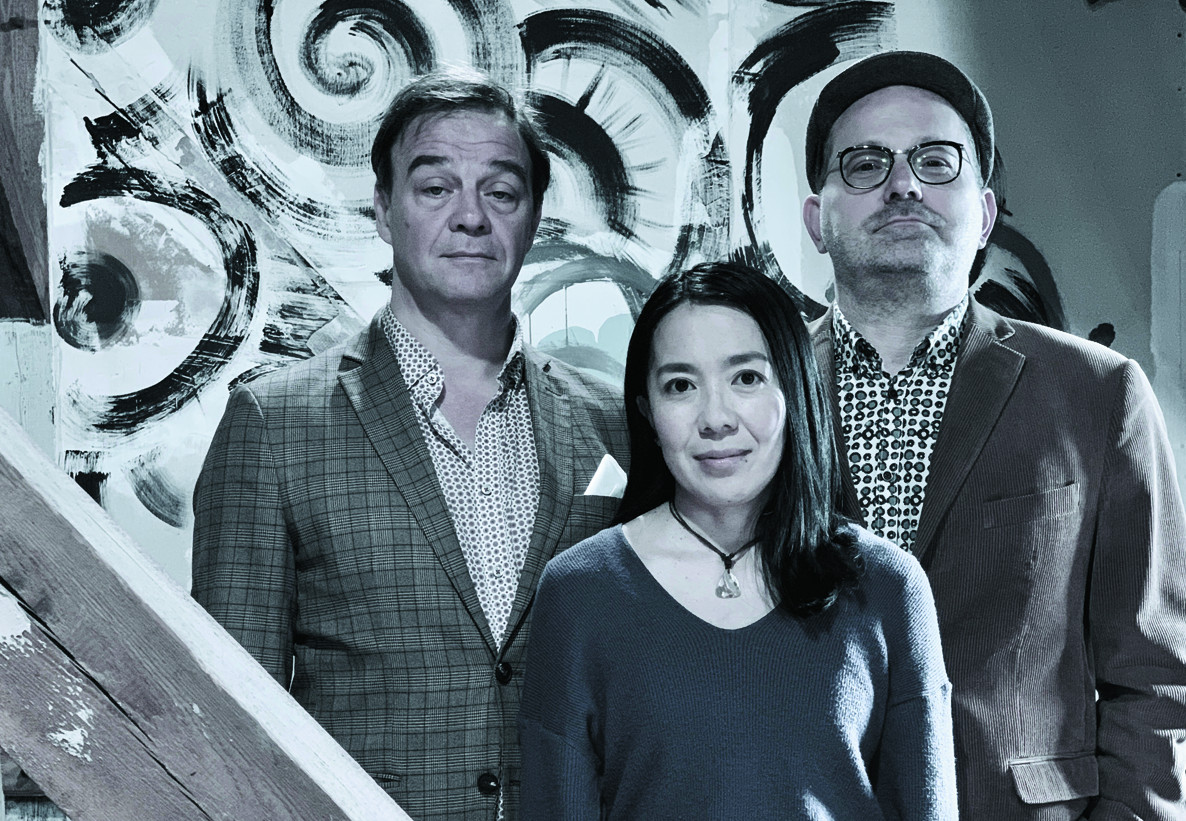 die Band
WALD ist ein frei improvisierendes Trio, bestehend aus Taiko Saito am Vibraphon, Jan Roder am Kontrabass und Michael Griener am Schlagzeug.
Im Rahmen einer Konzertreihe, in der sich Michael Griener und Jan Roder sowohl mit bereits bestehenden Bands als auch mit Erstbegegnungen im Berliner Au Topsi Pohl präsentierten, stand Taiko Saito im November 2021 erstmals nur mit Bass und Schlagzeug auf einer öffentlichen Bühne.
Die gemeinsam entstandene Musik ermöglichte es allen dreien, Facetten ihrer musikalischen Persönlichkeiten zum Ausdruck zu bringen, die zuvor nur selten zum Vorschein gekommen waren.
Das Konzert ist auf einer CD bei Trouble In The East Records dokumentiert.


the Musicians: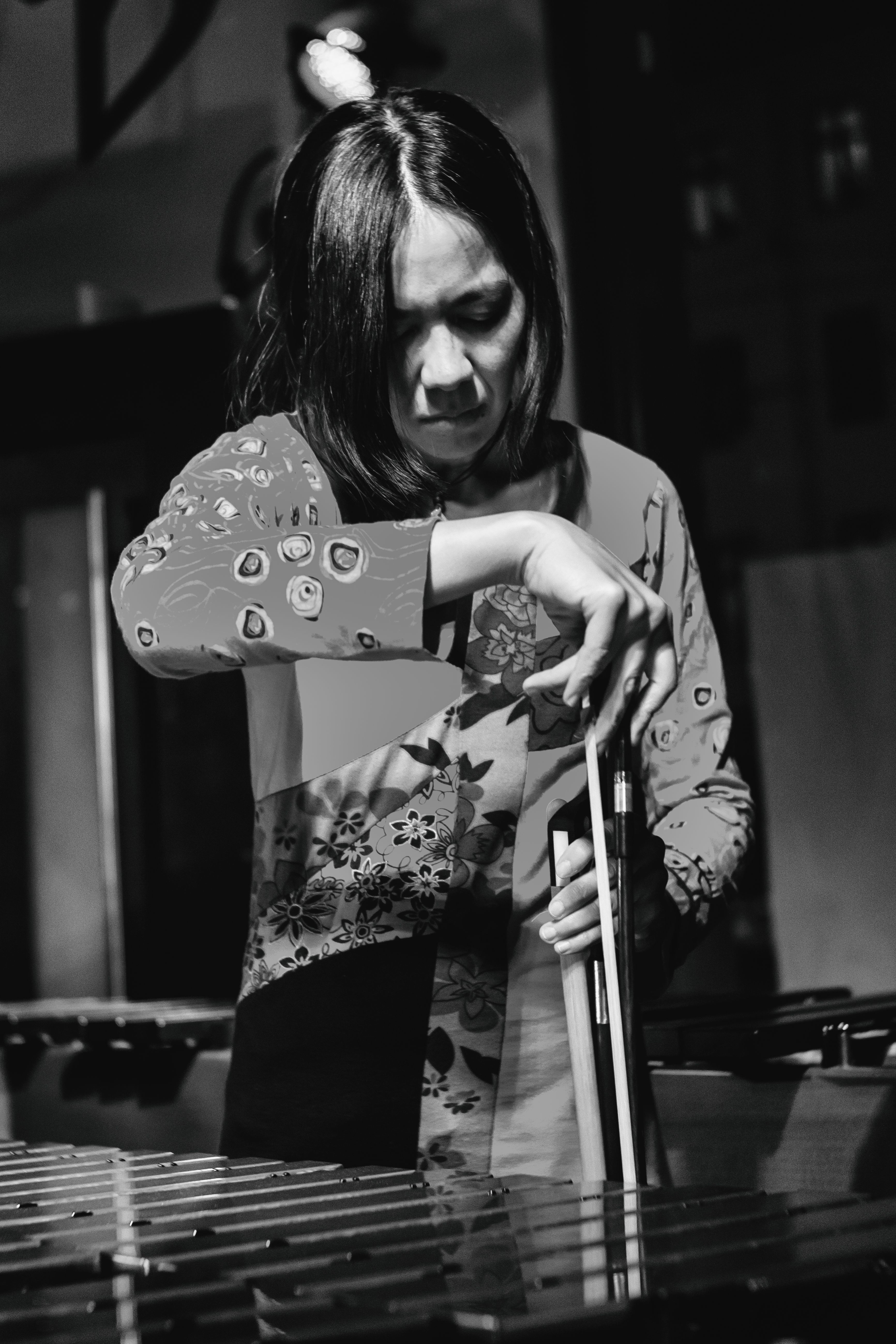 Taiko Saito, geboren in Sapporo. Marimba- und Schlagzeugstudium an der Toho Gakuen School of Music in Tokyo bei Prof. Keiko Abe und bei Prof. David Friedman an der Universität der Künste Berlin.
Auftritte als Solistin u.a. mit dem Sapporo Symphony Orchestra, Orchestra d`Auvergne. Festivalauftritte (Auswahl): Reykjavik Jazz Festival, Tong-Yeong Music Festival, Jazzfest Bonn, Morr Music Festival, Jazzfest Berlin, Silk Road Festival, Cairo Jazzfestival, Moers Festival u.a.
Zusammenarbeit mit Musikerinnen/n wie Mary Halverson, Shing02, Markus Acher (The Notwist), Heinrich Köbberling, Kazuhisa Uchihashi, Jan Roder, Uli Kempendorf, Jelena Kulic, Óbó (Sigur Rós), u.a. , mit Komponistin wie So a Gubaidulina, Keiko Abe und mit Theaterregisseur Herbert Fritsch.
Eigene Projekte: KOKO mit Niko Meihold(p), Berlin Mallet Group mit Julius Heise, Hauke Renken, Raphael Meinhart und David Friedman, Futari mit Satoko Fujii(p), kokotob mit Meinhold, Tobias Schirmer(bcl), Puzzle mit S.Fujii, Mizuki Wildenhahn(Tanz), Natsuki Tamura(tp), Schirmer und frei improvisierendes und komponiertes Solo Mokoton Ensemblemitglied bei Trickster Orchestra, Silke Eberhards ́ Potsa Lotsa XL, Hannes Zerbe Orchestra
Mit ihren Projekten Verö entlichung mehrerer CDs bei Labels wie Pirouet und cleanfeed. Ausgezeichnet mit zahlreichen Preisen, u. a. dem ersten Preis beim Concours International de Vibraphone Claude Giot 2005, dem dritten Preis bei der World Marimba Competition 1996 und dem Studiopreis des Berliner Senats. Jury-Tätigkeit für den Concours International de Vibraphone. Sie gibt Meisterklassen und Workshops in Japan, Europa, Kolumbien und den USA.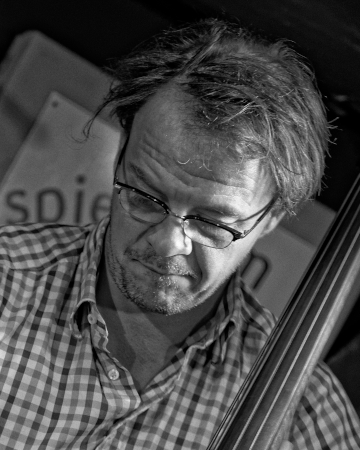 Jan Roder, born 1968 in Lübeck, Germany, playes bass and electric bass. He moved to Berlin in 1995 where he encountered musicians the likes of Dörner, Mahall, and v. Schlippenbach with whom he has played until today (f.e. this very 'Enttäuschung'). Roder considers his musical 'home' to be post-free jazz and improvised music deeply rooted in the jazz tradition. He collaborates with musicians such as Aki Takase, Gunter Hampel, Irene Schweizer,Ulrich Gumpert, Ernst Ludwig Petrowski, Thomas Borgmann, Peter Brötzmann, WolfgangPuschnig, Axel Dörner, Wlli Kellers, Michael Griener, Oliver Steidle, Silke Eberhard,Christof Thewes, Matthias Schubert, Olaf Rupp..... and in projects such as Monks Casino, Die Enttäuschung, Soko Steidle, Squakk, Die Dicken Finger (on electric bass), Silke Eberhard Trio, Ulrich Gumpert Quartett and Workshop Band, JR3, as a soloist and studio musician.
Foto: Alexander Schaffer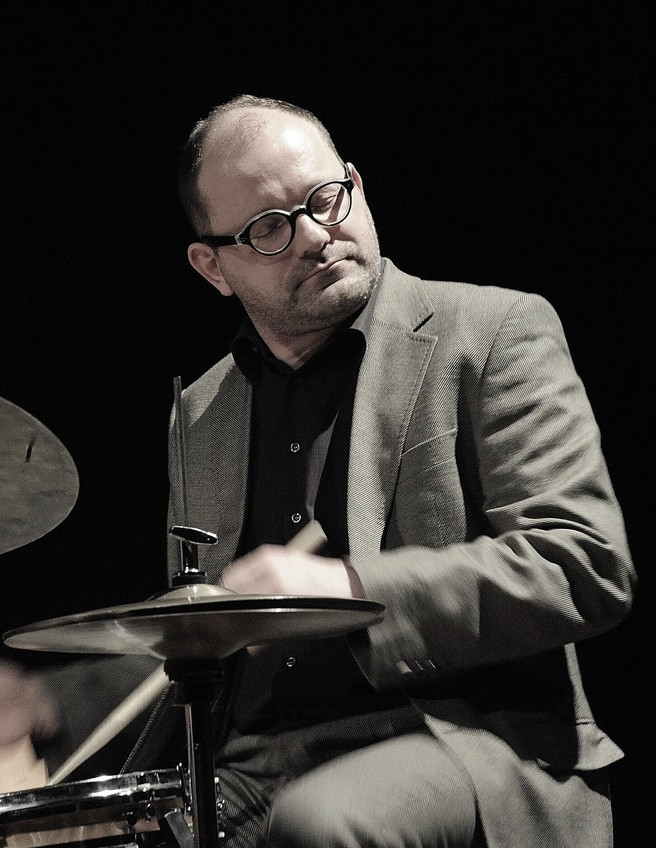 Michael Griener, self-taught by listening to and playing with many of his elders, spent his formative years as a teenager with bass clarinetist Rudi Mahall and began his freelance career in 1988, initially in intensive collaboration with Günter Christmann in Hannover, and since moving to Berlin in 1994 has distinguished himself as one of the most versatile drummers on the current jazz scene, as evidenced by his work with Mal Waldron, Butch Morris, Tal Farlow, Evan Parker, Aki Takase, Tony Malaby and many others. Together with Jan Roder he forms the rhythm section of the band DIE ENTTÄUSCHUNG, ULI GUMPERT QUARTETT, MONK'S CASINO and various other formations.
Informed by a deep knowledge of the jazz tradition, he moves mainly in the border area between jazz and free improvisation, as for example in his trio with Ellery Eskelin and Christian Weber.
In 2002 Baby Sommer brought him on as a lecturer at the Dresden Academy of Music, where he still teaches jazz percussion. In March 2006, Griener received the "Most Creative Soloist" award at the New German Jazz Awards ceremony in Mannheim. His music has been documented on numerous CD releases, including Intakt, HatHut, FMP, Jazzwerkstatt, Moers Music and many more.
Played a.o. with
Tal Farlow, Herb Ellis, Mal Waldron, Evan Parker, Ellery Eskelin, Dave Liebman, John Zorn, Butch Morris, Ken Vandermark,Ernst-Ludwig Petrowsky, Barry Guy, Paul Lovens, Zeena Parkins, Keith Tippett, Sirone, Uli Gumpert, Aki Takase, Mats Gustafsson, Alexander v. Schlippenbach, Joelle Leandre, Günter Christmann, Conny Bauer, Johannes Bauer, Frank Gratkowski, Phil Minton, Tony Buck, Matthias Schubert, David Moss, Axel Dörner, Lu Hübsch, Claudio Puntin
the CDs: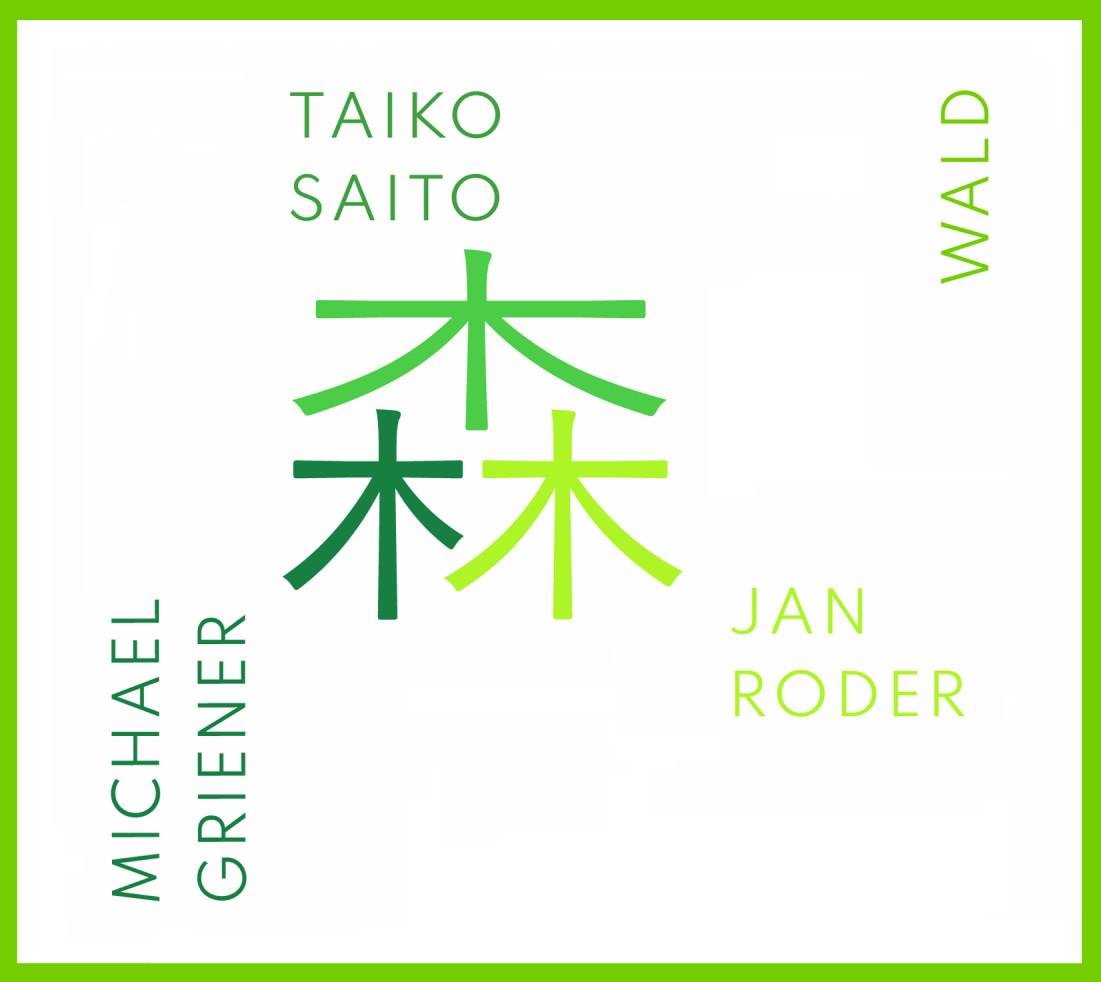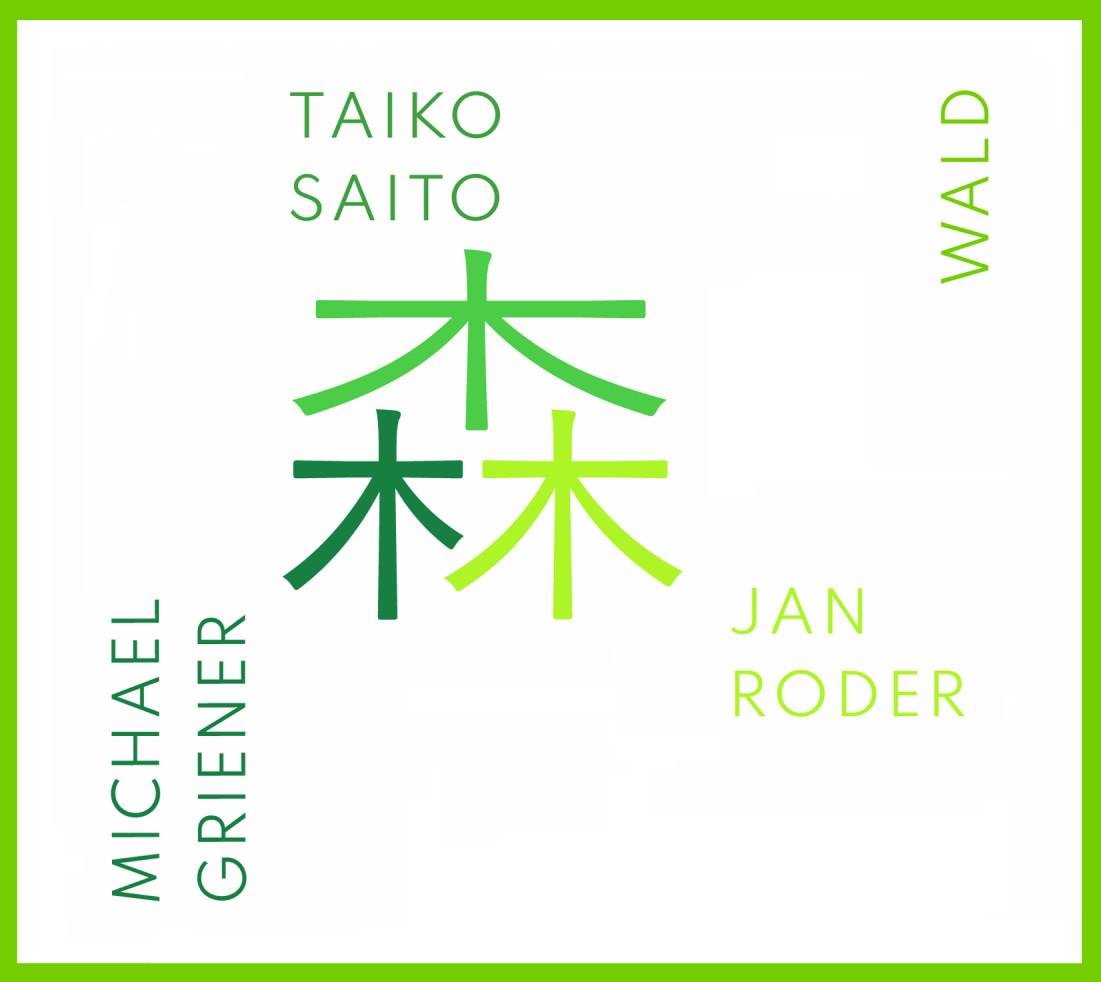 reviews:
Gabriel Aniol in Jazzpodium 6/7 2023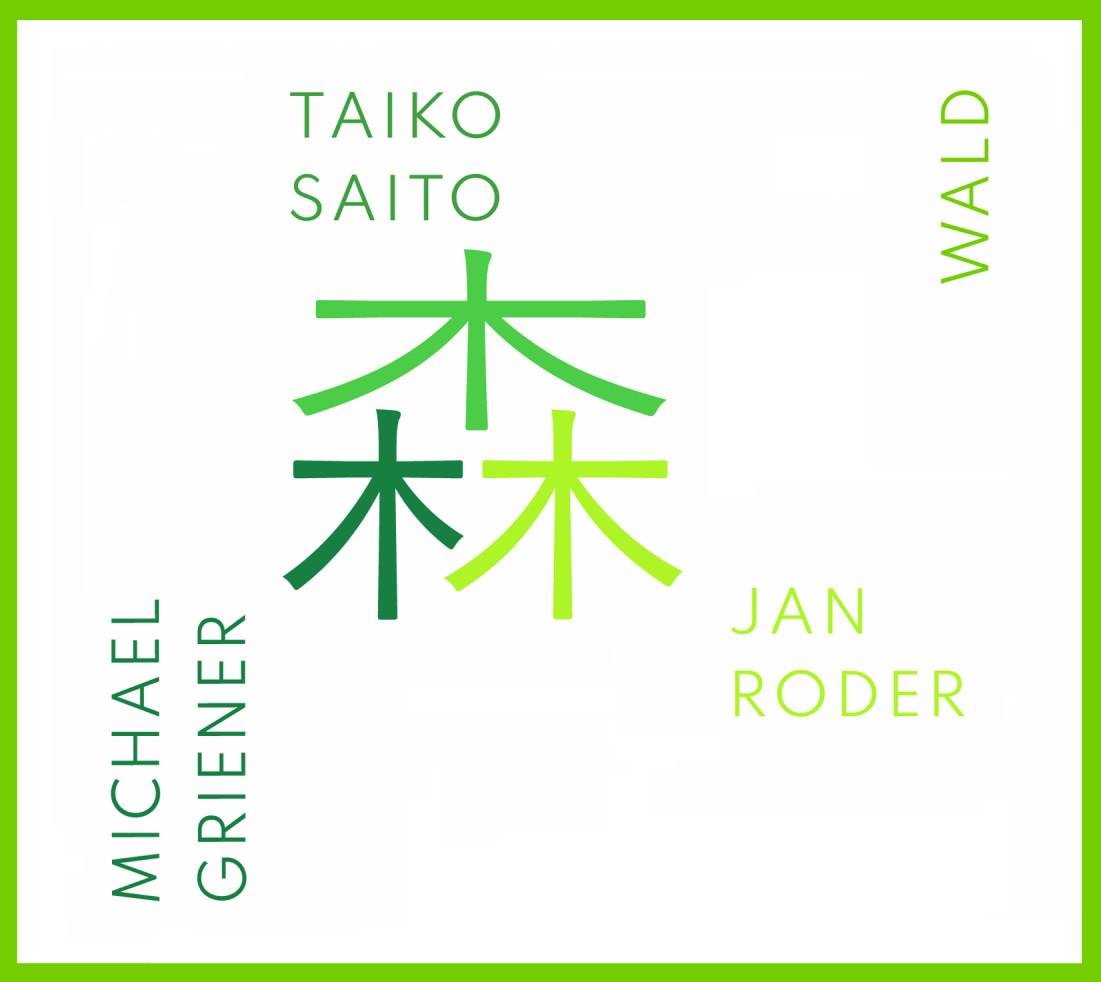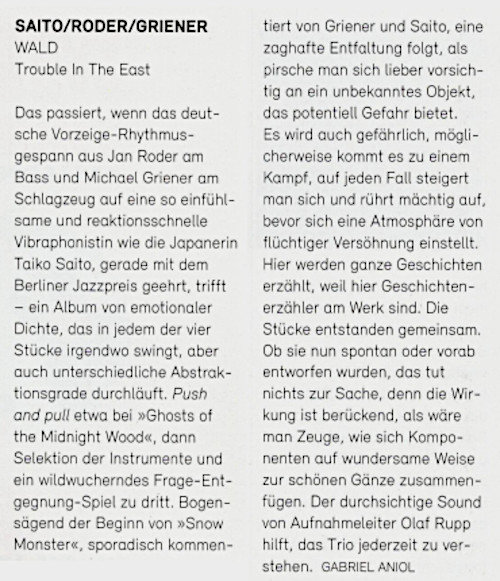 Peter Margasak on Nowhere Street
On Sunday, July 2 she (Taiko Saito) will play a solo piece as part of a concert at the spectacular Kaiser-Wilhelm-Gedächtniskirche, where the bulk of the program will feature her excellent improvising trio WALD, with bassist Jan Roder and drummer Michael Griener—the current rhythm section of Die Enttäuschung. The group has just released its eponymous debut recording, made live at the sorely missed Au Topsi Pohl in November of 2021. The album demonstrates an impressive connection on four pieces created on the spot. Saito sticks exclusively to vibraphone here, but her versatility and non-jazz ideas give the music plenty of spark. The rhythm section allows the music to breathe, toggling between swinging passages and sections that focus on pure sound. On the opening track "Ghosts of the Midnight Wood," which you can listen to below, the music keeps contracting and expanding—players drop out, letting someone pursue an individual thread for a couple of minutes, before the others join back in, pushing the performance in a new direction. Griener is propulsive, but he still attacks his crash cymbal here and there to inject shots of dissonance and chaos, adding delicious tension to already jagged lines unspooled by Saito.
Unlike many other vibists, who produce liquid swells to erase any silence or to generate harmonic possibilities for her cohorts, Saito generally adopts a more percussive attack, which fits perfectly with Griener and the more pointillistic side of Roder's playing. Elsewhere, as on a piece like "Hoarfrost Tree'' there's an enhanced focus on sound, as bowed lines from the musicians mewl, rumble, and vibrate in striated layers of quietude at the outset, carrying on for more than three minutes before the temperature is raised and the levitating intensity ramps up. I honestly haven't really heard a vibraphone trio operate like this one does.
Nowhere Street at substack.com
Rigobert Dittmann in Bad Alchemy
Man nehme das Céline Voccia Trio und tausche die französische Pianistin gegen TAIKO SAITO, um ihre Malletts zu verwirbeln mit JAN RODERs basswerklichem Pizzicato und Arco und den quicken Sticks von MICHAEL GRIENER. Dann kann sowas entstehen wie Wald (TITE-REC 029), das die drei am 4.11.2021 live im Berliner Au Topsi Pohl zeigt. Mit 'Ghosts of the Midnight Wood', 'Hoarfrost Tree', 'Typhoons and Windbreaks' sowie 'Snow Monster'. Stoff, wie gemalt von den alten japanischen Meistern mit ihrem phantastischen Auge für Landschaften und Schreckgespenster. Nur dass diese Bilder auch noch tanzen und einen verhexen können.
Mit Berliner Luft, die Griener seit 1994, Roder seit 1995 und Saito seit 1997 atmen, und dem blinden Verständnis, das die beiden Herrn sich in Monk's Casino, dem Uli Gumpert Quartett, Die Enttäuschung, Squakk und Reich durch Jazz erspielt haben. Die Bäume ihres Waldes haben kristallene und metallene Blätter und Nadeln, die ein Geisterwind schüttelt, harft, spitzfingrig tupft und zupft oder mit vollen Händen aufrauschen lässt. Und so einen Klingklang und crashige Fluktuationen erzeugt, die vielleicht keinen Jüngerschen Waldgänger nervös machen können. Aber leichtfertige Jogger werden da lieber mal die Beine auf den Bückel nehmen, von Bärenatem gestreift. So dass die Kobolde und Geister wenigstens um Mitternacht wieder unter sich klimpern, flickern, wie Glasperlen umeinander flippern können. Mit dem 'Raureifbaum' ist man nah bei Stifters Eiswald in 'Die Mappe meines Urgroßvaters' - als ob viele Tausende oder gar Millionen von Glasstangen durcheinander rasselten - mit Saitos Sound als eiskristallenem Mirakel. Den danach wuschelnd jazzenden Wind lassen Roder mit dem Bogen und fliegenden, pickenden Fingern, Griener mit geschwind federnden Besenstrichen und Cymbalschlägen beben, Saito mit tremolierenden Malletts klimpern, springen und tönen. Zuletzt knarrt Yeti durch den Schnee, macht sich aber leicht wie die Flocken. Um seinen mysteriösen Ruf zu wahren, schlägt er sich auf Zehenspitzen in die Büsche, von denen er Eiszapfen verstreut, außer einem rasanten Klappern bleibt da weniger als das Huschen eines Hermelins im Winterpelz. Und ganz woanders der leise Tritt des Phantoms, das nur allmählich wieder seine mächtige Gestalt annimmt. Klar, andre Köpfe, andre Bilder. Aber ohne zu staunen, findet wohl keiner aus diesem Wald.
[BA 120 rbd]
the music: